Salmon
Scientific Name: (King salmon/Chinook salmon - Oncorhynchus tshawytscha)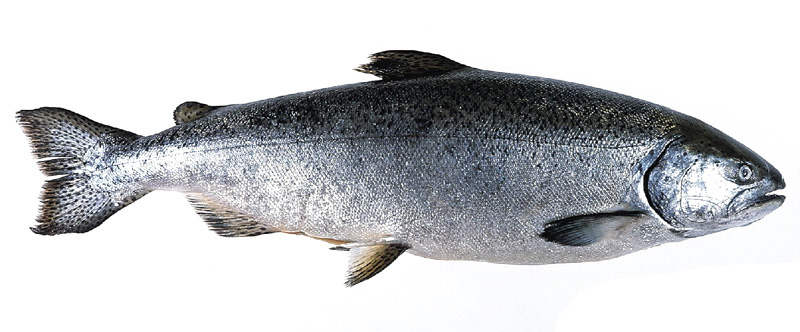 | | |
| --- | --- |
| Scale (tonnes) | 1000 |
| Investment ($ millions) | $13.1 |
| 10 YR NPV - 14% discount rate ($ millions)  | $(3.4) |
New Zealand has no native salmon or trout. King (Chinook) salmon were introduced by the Marine Department in the hope of starting a commercial rod fishing and canning industry. Those introductions were via a hatchery on the Hakataramea River, between 1901 and 1907 from ova imported from the Baird Fish Station in California. Several other attempts to introduce salmon in various parts of New Zealand are regarded as having been unsuccessful. Chinook salmon became established with self sustaining returns to rivers on the east coast of the South Island and to a minor extent on the west coast of the South Island. Further imports of live salmon into New Zealand have not been permitted for over 50 years. Naturalised salmon are now found mainly on the South Island's east coast, from the Waiau River in North Canterbury to the Clutha River in South Otago. There are also small runs in the Paringa, Taramakau and Hokitika rivers on the West Coast
Whilst around 2 million tonnes of Atlantic salmon are farmed worldwide, only New Zealand and to a lesser extent Canada farm Chinook salmon. Atlantic salmon farming is predominantly undertaken in sea cages using smolts produced in freshwater hatcheries. The industry is largely based around vertically integrated companies and has become increasingly efficient. The farm gate price of Atlantic Salmon has fluctuated in recent years due to disease outbreaks in Chile that reduced supply and therefore increased price. This is coupled to an increase in global demand for salmon that can be attributed to a combination of; attractive prices, product development, extensive marketing campaigns and a global shift towards healthy yet sustainable seafood choices.  These factors have caused the average world price for Salmon to increase from around NZ$5 /kg in 2000 to around NZ$8 / kg in 2013.  In general the price of Chinook salmon supplied to specialist niche markets tracks the price of Atlantic salmon, but is on average around 30% higher. (www.globefish.org/salmon114.html).
King Salmon (Oncorhynchus tshawytscha) farming in New Zealand began in the 1970s. Initially hatcheries were initially set up to enhance and support wild fish stocks. The first hatchery operations began in 1976. In 1983, after some opposition against their establishment by societal groups, including anglers, the first sea cage farm was established in Big Glory Bay in Stewart Island by British Petroleum NZ Ltd. Further cage farms were established in the Marlborough Sounds in the mid 1980s.  Currently the NZ industry produces around 11,500 tonnes with more than half of this produced by one company, The New Zealand King Salmon Co. Ltd. 
Chinook (King) salmon
As with Atlantic salmon, the industry is largely based on net pen farming operations. These are located in the Marlborough Sounds, Stewart Island and Akaroa.  Salmon are also farmed in net pens in hydro canals in Otago and in ponds and raceways in Tasman and Canterbury.  There are currently no salmon farms on the North Island as summer temperatures in the Northern part of New Zealand are generally considered to be too high for successful salmon culture. Approximately 70% of New Zealand's production is consumed within New Zealand, with the remainder exported to Japan,  the Pacific Rim countries, Australia and America.
The process of farming salmon has been well refined.  Salmon eggs are hatched in land-based freshwater hatcheries (there are approximately 5 commercial hatcheries) and grown for 4 to 9 months until they are smolt (~50-150 g) when they are transferred to sea pens or freshwater farms, where they are grown out to harvestable size of 3 – 4 kg. The broodstock for the farms are usually selected from existing farm stock or sometimes sourced from wild populations. The NZ King Salmon Company is well advanced in a selective breeding program with King Salmon.
Salmon farming in hydro canals, Mt Cook Alpine Salmon (C Searle, Sashimi Group)
Largely because King salmon are an introduced species in New Zealand, they are not affected by significant disease outbreaks. The absence of serious disease means New Zealand farmers do not need to use antibiotics or vaccines to maintain the health of their salmon stocks. The salmon are fed extruded pellets containing terrestrial and fish meals specially formulated for King salmon in Australia or Chile since New Zealand has no large fish food manufacturing facilities.
King salmon take approximately 18-24mths in seawater to reach market size of 3-4kg.  FCR's commonly range from 1.2 – 1.8. They have a poorer FCR than Atlantic salmon (0.9 – 1.2).
There is little information on the performance of King salmon in intensive recirculation systems. Atlantic salmon and rainbow trout have been stocked to 80-120 kg per cubic meter in commercial RAS systems overseas (Chile and Denmark). However this will likely be higher than could be achieved with King salmon. Survival, growth rate and FCR have been found to be better in RAS systems than sea pen systems. Neosalmon (Chile/Atlantic salmon) achieved harvest size in 12 months (4-6kg), with a mortality rate of less than 1% and a feed conversion ratio of 1.0.
Information on King salmon in NZ and salmon farming in RAS systems is available from the following links. 
---
Generic Model Information
The following generic model simulates the production of salmon in an intensive RAS system.  The assumptions entered in the model are based on the best information available to NPFL at the time.  They will give a general picture of the likely economics and financial viability with this species.
The key outputs from the 10 year generic salmon model are:
Investment required - $13.1 Million
IRR - 10.1%
10 yr NPV (14% discount rate) - $(3.4) Million
Based on your specific location, RAS system design and performance specified by the supplier the assumptions may need to be altered for your particular situation.  Additionally you may wish to manage production differently i.e. grow the fish to a larger size before sale.
NPFL strongly advise that you seek advice from experts in setting up your own assumptions for your model runs.